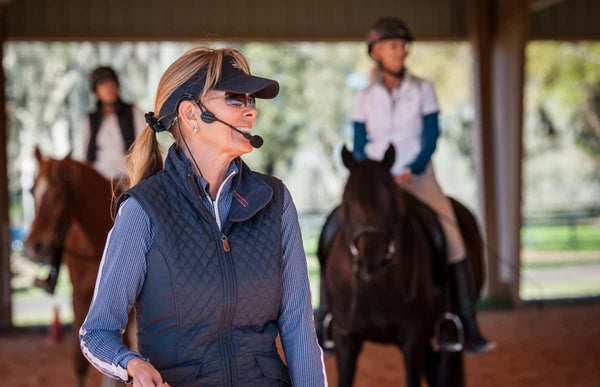 May 31 - June 2, 2024 (Changed from October 13 - 15, 2023) • Carmel Valley Trail & Saddle Club
85 East Garzas Road Carmel Valley, CA 93924
Most riding lessons are often more demoralizing than fun. Worst of all, they don't produce instant results and I've been there as both a student and an instructor. Now, with 30 years of experience – developing my own riding skills and thousands of hours of teaching, I can look at a horse and rider and tell them exactly what needs to change.

You can tell when a rider is not very skilled. They have a 'loose', unbalanced position in the saddle and ride more like a passenger, or a victim! Or they are stiff, have hard hands, tight legs and a strict attitude towards the horse.

Also, you can tell how good a rider is by the way the horse moves – high headed, hollow, trouble with the bit, or lazy, dull and unresponsive. Riders cause that, or at least they are not improving it. Either way, the horse is not happy. Not only is it hard to make progress like this, it takes all the fun out of riding.

Many riding lessons don't work. They teach you how to "sit" and to make the horse go, stop and turn but they don't teach you how to be a leader in the saddle. You have to be part trainer and part rider.
A leader is way more than a rider. You need to:
Teach your horse to be in harmony with you – calm, controlled and willing.

 

Your horse is not a robot, he or she is going to respond or react to you – positively or negatively
Sit well.

 

Leaning forward, backwards or sitting crooked all affects your horse's ability to move properly and an uncomfortable horse gets emotional or shut down. When you sit well, your horse moves well.
Invite harmony.

 

Don't tell your horse what to do, learn how to lead the dance.
Effective Rider Position – Safe, Athletic, Dynamic
Horse Biomechanics – Healthy Movement
Stretching & Relaxation
The secrets of Impulsion & Suppleness
Ride with Contact – learn how to "Hold Hands" with your horse
Ride with Loose reins – how to Guide with your Legs
Bit Selection made simple
Masterful Simulations
And more!
"I don't want your horse to dread being ridden by you, I want him to love having you in the saddle!"
Join me in beautiful Carmel, California for three days of the most astonishing results you can imagine.
It's time to transform YOUR riding!
NOTE: Individual pens for overnight stabling, along with dry camping, for those guests wanting their horse to stay on property during the clinic are available for $30/night. If you desire to stay on property, there is a $20/night camping fee. Please pay for stall and camping fee through our store.
If you don't wish to ride and would like to audit, click here to register as an auditor.
Please make plans to bring your own lunch, have lunch at one of the many nearby restaurants or order from the food truck that will be on site for lunch (not included in the fee).
***HHHL Members who register as riders will receive a $150 gift card to our online store***