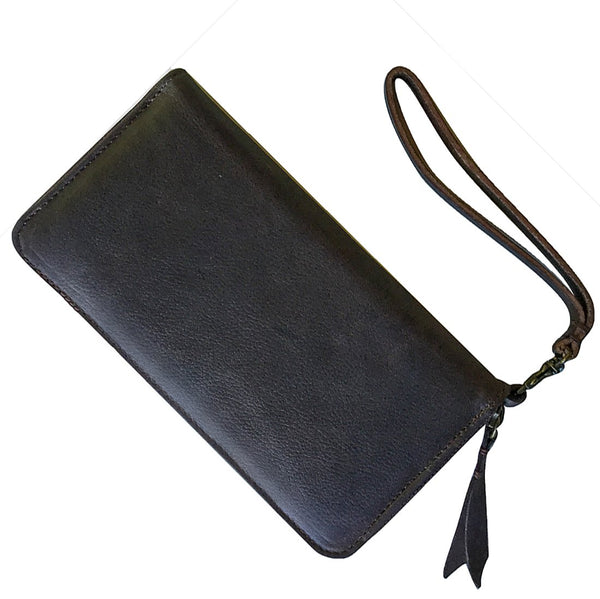 Leather Case Design Goals
Embrazio's handmade leather phone wallet has its roots in repeated customer's requests for a slim profile case that would hold any sized smartphone and include all the functions of a large wallet.   We tested and prototyped nearly a dozen designs before we landed on the production model.  Carried as a clutch or wristlet, this leather phone case answers all the functional requirements in a style that accents any look.
The inside leather phone sleeve accommodates even the largest smartphones at 7" in length and 3.75" in width with leather that both gives and forms over time to fit your phone like a glove.  6 card slots will please even the most card rich shoppers and there is an open sleeve for your cash and a full length metal zippered compartment for cash, coins, or other valuable items.  The entire contents of your handmade leather phone case are secured by another metal zipper for maximum security.  You're gonna love this premium leather slimline case that's just as fashionable as it is functional.
Design Details
Premium all leather slimline phone case and wallet
Fits the largest smartphones via a 7" length and 4" width leather sleeve
High quality materials and craftsmanship
Multi-functional design:

 Interior metal zipper pocket
6 credit card slots
phone sleeve that fits even the largest phones
Exterior metal zipper enclosing entire case
Detachable wristlet for flexible carriage 
Multiple colors to choose from
Dimensions: 4.75" Width X 8.5" Length X 1" Deep
Wrist Strap: 7.5"